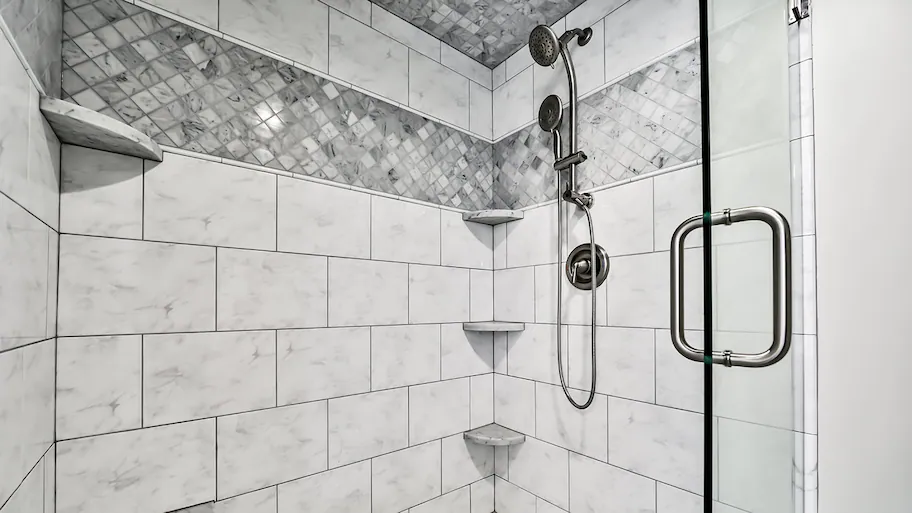 Are you still dealing with that ancient, leaky, rusting fixture that the previous owner left behind? Dreaming about a rainfall shower head that turns your bathroom into a personal spa? Or maybe you just can't stand the cold tiles under your feet during those early morning rinses anymore and a hot shower would probably be the best idea?
No matter what's going on, if you're in Bastrop, TX, and thinking, "Time for an upgrade," then you're in the right spot. Let us, Doug The Plumber, turn your everyday shower from "meh" to "wow". After all, a great day begins with a great shower!
The Many Benefits of Installing a New Shower
We often don't realize the value of a good shower until it starts acting up. Here's why a modern, working shower is a game-changer:
Quick & Easy Clean: We all live busy lives. No time for a tub soak every day. A shower offers a fast, refreshing wash, getting you ready for the day or helping you relax before bed.
Your Own Spa: The right showerhead and fixtures can give you a spa-like experience at home. Dreaming of a rain shower? A massage setting? A multi-jet system? We've got a setup that's just right for you.
Good for Earth, Good for Wallet: Showers usually use less water than baths. That means they're friendlier to the environment and friendlier to your water bill.
Looks Great: A stylish, modern shower can up your bathroom game, adding value to your home. With a range of designs, finishes, and setups, you can have a shower area that matches your taste and decor.
Easy to Use: Got mobility issues? A walk-in shower can be a safe, easy solution. Modern designs can include safety features like grab bars, seating, and non-slip flooring – all while looking great.
A good shower at home doesn't just serve a practical purpose. It also offers luxury, efficiency, and ease of use, making your day brighter. Planning a big bathroom remodel? Give us a shout to install your new shower!
Why Choose Doug The Plumber For Shower Installation in Bastrop, TX
Here are a number of reasons why Doug The Plumber rocks when it comes to shower installations:
We're the Plumbing Pros: Let's get real. We've been doing this plumbing thing for decades now, and we've got mad skills. Doug The Plumber isn't just some dude with a wrench - we're shower installation ninjas. We've got the lowdown on everything shower-related. So if you're in the Bastrop, TX area and want to spice up your bathroom game, we're your crew.
Stellar Service: Ever heard the saying, "If you're gonna do it, do it right"? That's our mantra. We want your new shower to not just work, but to work like a dream and look sleek while doing it. Our squad is all about giving 110% to make sure you're stoked with your shower for years to come.
Fair Prices, No Surprises: We get it, nobody wants to blow their entire paycheck on a shower installation. That's why we keep our prices fair and square. You're not just buying a shower; you're making an investment that'll keep on giving every morning (or night) when you step in for a rinse. We're all about providing top value without draining your bank account.
We're the Good Guys: Doug The Plumber isn't some faceless corporation. We're a family-owned biz, and we've got big love for our community. We value the trust you put in us and work hard to earn it. Our team isn't just skilled - we're also super approachable, always respectful, and committed to making your shower installation a breezy experience.
Your Schedule is Our Schedule: We totally understand that your time is golden. That's why we're all about flexibility when setting appointments. We'll sync with your timetable and ensure we wrap up the installation with minimum fuss.
Tired of that drab morning shower routine? Time to swap 'blah' with 'ahhhh'. Let's level up your bathing experience together. Give Doug The Plumber a ring today and let's kickstart your journey towards a shower that will morph your bathroom into a private oasis. Don't just shower—make it a ritual. Hit us up to schedule your consultation today!
6 Different Reasons You Should Hire Us
Frequently Asked Questions
You Have Questions, We Have Answers
Plumbing problems can be extremely frustrating, especially when it means you can't use your toilet, sink, shower, or all of the above! Have plumbing questions?
Nah, that's not how we roll! At Doug The Plumber, we're as neat as a pin. We've got our own tidy-up tricks to keep the mess to a minimum. When we're done, we'll leave your house just as clean as we found it, promise!
Pretty much anything you're thinking of! We've installed everything from basic shower units to swanky custom walk-ins and even those fancy rainfall showerheads. If you've got a shower vision, chances are we can make it happen.
It kinda depends on what you're looking for. A simple setup might just take a day or two. Once we know what your shower dreams are made of, we can give you a more accurate estimate.
That's totally up to you! While you don't have to be home, we get that you might want to be. We're happy to chat about scheduling and find a time that's super convenient for you.
You bet we do! We're really proud of our work and totally stand by it. When we chat initially, we'll fill you in on all the warranty deets for both our labor and the materials we use.