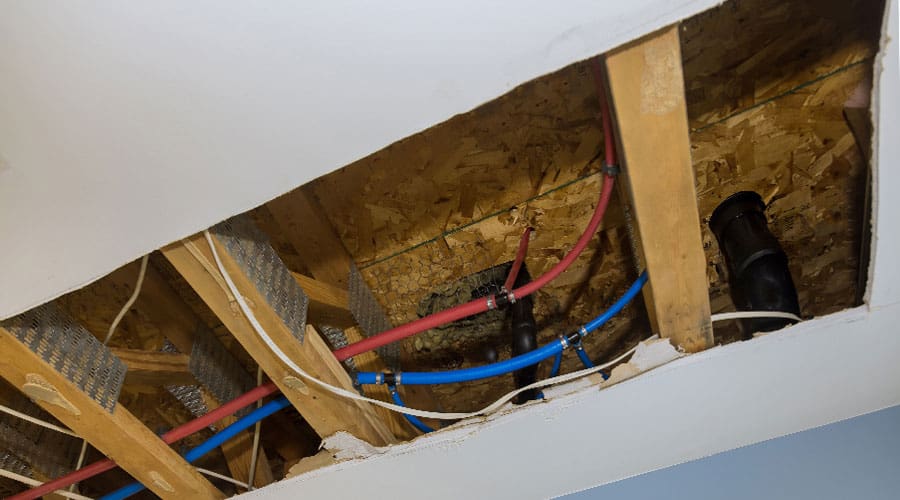 Have you ever found yourself dreaming about that perfect, cozy bathtub after a long day, only to remember that your home is still stuck in the era of showers? Or maybe you're considering a home improvement project and the thought of replacing that old, worn-out bathtub looms ominously. Doug The Plumber is the go-to solution for bathtub installation in Bastrop, TX and we can definitely help you out.
We know how stressful a regular day can get. Perhaps the kids have created chaos all day, or the boss was just a bit too bossy, and all you yearn for is a relaxing soak in a warm bathtub. But alas, your home simply wasn't blessed with a tub. Or perhaps you do have a tub, but it's more like an ancient relic than a comforting sanctuary. We can install brand new bathtubs or install a bathtub replacement for your home.
Old, rusted, or damaged pipes can be the culprits behind endless leaks, low water pressure, and even dodgy water. These issues can not only put a spanner in your daily routine but also pose some serious health risks and open the floodgates to expensive water damage. The ticking time bomb within your walls might be more of a headache than it's worth.
But hold up, you're not in this alone. Doug The Plumber is your go-to for ace whole-house replumbing and plumbing services. Opting for a full replumb is like buying an insurance policy for peace of mind, knowing your plumbing system is dependable, efficient, and bang up to date. Call on Doug The Plumber - your whole house replumbing guru. Let's chat today and fortify the health and safety of your home's plumbing system.
Wondering If It's Time for a Full House Repipe? Keep an Eye Out for These Clues
Pulling the trigger on a full-house repipe isn't something you do on a whim but there are telltale signs it could be on the cards. If any of the following issues have set up camp in your home, it could be a hint your home is ready for a plumbing makeover:
Leaks are Your New Norm 
If you're playing host to leak after leak, you might need to consider replumbing. Regular leaks are often the symptom of a pipe system past its prime, and sticking band-aids on individual leaks might not keep future troubles at bay.
There's Something in the Water
Spotting a brown or yellow hue in your water? Does it have a weird taste or smell? These could be signs your pipes are corroding on the inside. The rust can break away into your water, posing health risks.
Water Pressure's Dropped 
If your water pressure's not quite the powerhouse it used to be, your pipes could be the party poopers. Old, corroded pipes can get clogged up, slowing down water flow to your taps and appliances. A repipe can get your home's water pressure back to its peak performance.
Pipes are Making a Racket 
Unusual sounds like banging, clanging, or gurgling coming from your pipes usually mean something's up. These noises could point to problems like loose pipes, too-high water pressure, or even major blockages.
Plumbing's Seen Better Days 
If your home's clocked over 50 years and the pipes haven't been touched, there's a fair chance a replumb is on the horizon. Most pipes, especially those made of galvanized steel or iron, typically last around 50 years.
If these signs are starting to look familiar, it might be time for a full-house replumb in Bastrop County. But don't sweat it – Doug The Plumber has got your back. We'll team up with you to craft a plan that keeps disruptions to a minimum and guarantees the durability and safety of your home's plumbing system. Don't let small issues evolve into huge hassles – drop us a line today and let's get the ball rolling!
Why Choose a Whole House Repipe? Here's the Inside Scoop
When you decide to level up with a whole-house repipe, you're signing up for: 
Next-Level Water Pressure
Done with those weak showers and appliances that take forever to fill? A repipe means you'll get strong and consistent water pressure all over your crib.
Crystal Clear Water Quality
Say sayonara to rusty or weird-tasting water. Fresh pipes equal clean, clear water each time you turn on the faucet. 
Minimal Plumbing Drama
New pipes put a serious dent in the risk of leaks, keeping your home safe from potential water damage and saving you from breaking the bank on repairs. 
Boosted Home Value
Got your eyes on selling your place someday? A fresh plumbing system can seriously up your home's street cred with future buyers. 
Step Up Your Plumbing Game - Get a Whole House Repipe from Doug The Plumber
Finding the right squad for a major operation like this is crucial. Here's why Doug The Plumber should be your number one draft pick:
Skills Meet Experience
A whole house repipe isn't a DIY project for a lazy Sunday. It needs real pros who know their way around plumbing systems. Our team's got years in the game, making sure every detail is on point.
Top-Notch Materials 
We're all about solutions that last, and that starts with high-quality, tough-as-nails piping materials. We go for pipes that meet the industry's high standards for durability and safety, ensuring your new plumbing system's built to last.
All About You 
Our customers are the real MVPs. Our team will be with you every step of the way, answering all your questions, breaking down the process, and creating a repipe game plan that fits your everyday life.
Straight Talk on Pricing 
No one likes those surprise charges. We give you a detailed estimate before we get to work, with honest, up-front pricing, so you know exactly what's going down.
Post-Game Follow-Up
Our work doesn't stop once the repiping's done. We check in to make sure you're completely satisfied and are always here to answer any questions or concerns you might have. 
Choosing Doug The Plumber means you're getting top-tier workmanship, ace customer service, and a stress-free repipe experience. We're here to help you step up your home's plumbing game and keep things running smoothly for years to come. Give us a call at (512) 882-0420 today and let's start your journey to a better plumbing system!
6 Different Reasons You Should Hire Us
Frequently Asked Questions
You Have Questions, We Have Answers
Plumbing problems can be extremely frustrating, especially when it means you can't use your toilet, sink, shower, or all of the above! Have plumbing questions?
Depending on your home's layout and size, a full-scale repipe can take us between a couple of days up to five days. But hey, don't sweat the specifics just yet! When Doug The Plumber's team gets a look at your home, we can give you a much more tailored time estimate.
You know what? Most likely, you won't need to pack an overnight bag. We get it, having to relocate temporarily is just plain annoying. That's why we work smart, ensuring your water is up and running by the time we leave each day. So yes, you can absolutely continue your Netflix binge in the comfort of your own home!
Okay, we won't lie - repiping an entire house does come with some disruption. But at Doug The Plumber, we're all about respecting your space. We lay out protective gear for your floors and furniture, keeping them safe from the workday chaos. And hey, we're tidy workers, so we always clean up our workspace before we clock out for the day. Your house stays as cozy as ever!
You bet! A full house repipe could be your golden ticket to bumping up your home's market value. Prospective buyers appreciate a spanking new plumbing system - it's like a stamp of approval that says "this house has been loved and cared for". Plus, it's an assurance that plumbing troubles won't be on their worry-list anytime soon.
This is where DougThe Plumber's crack team comes into play. We'll carry out a comprehensive check of your plumbing system, getting a read on its overall health. If it turns out that a repipe is what you need, we'll let you know. We're all about proposing solutions that make sense for you in the long run - no unnecessary jobs, we promise!