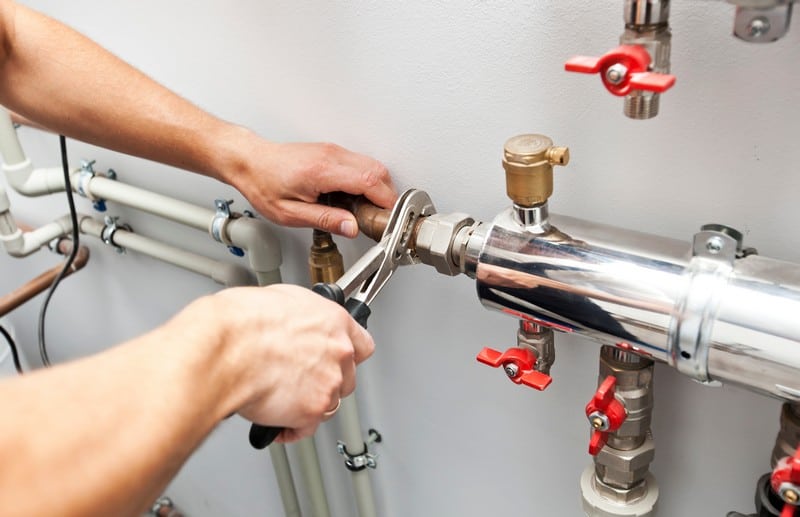 Running a successful business is an intricate dance of responsibilities. When plumbing troubles join the routine, it's like an off-beat dancer - throwing everything into chaos. From minor leaks that inflate your water bill to major pipe issues that can halt operations, plumbing problems are the unwelcome guests that always seem to overstay their welcome. And that's where Doug The Plumber steps in, offering dependable commercial plumbing solutions in Bastrop, TX, and surrounding regions. We do everything from simple plumbing repairs to major renovations.
Doug The Plumber: Your All-In-One Commercial Plumbing Service Provider
We understand the ripple effect that a minor plumbing hiccup can have on your business operations. That's why we've geared our services to cover the broad range of commercial plumbing needs, ensuring your systems run without a hitch. Here's a glimpse into our comprehensive range of commercial plumbing services in Bastrop, TX:
24/7 Emergency Response
We know that plumbing emergencies don't keep office hours. That's why we have a dedicated team on call 24/7, ready to swoop in and resolve your urgent plumbing crises swiftly and effectively.
Tailored Plumbing Installations
Whether you're constructing from scratch, expanding your workspace, or sprucing up your existing layout, our seasoned team is well-versed in designing and installing plumbing systems customized to your unique needs.
Quick and Efficient Repairs
From a trickling faucet to extensive pipe damage, we're your team on standby, ready to solve your plumbing woes with minimal disruption to your operations.
Preventive Maintenance for Peace of Mind
Regular maintenance is your best defense against unexpected plumbing surprises. We conduct detailed inspections, cleanings, and tune-ups, keeping your plumbing systems in tip-top shape and your business sailing smoothly.
Expert Drain Cleaning
Our top-of-the-line drain cleaning services ensure that clogs and backups are a thing of the past, keeping your plumbing system at its optimal performance.
Comprehensive Sewer Line and Gas Line Services
From tackling sewer line blockages and leaks to managing gas line installations and repairs, we ensure your business stays safe, compliant, and environmentally friendly.
Reliable Water Heater Services
We offer end-to-end services for commercial water heaters, ensuring your business never runs out of hot water.
No matter the size or complexity of your commercial plumbing needs, Doug The Plumber brings you a blend of expertise and commitment, delivering exemplary service that keeps your business running like a well-oiled machine.
Common Signs You Need Commercial Plumbing Services
Awareness of common commercial plumbing issues can save you from costly repairs and unexpected operational halts. Stay ahead of these situations by knowing the typical commercial plumbing problems that need prompt attention:
Leaky Faucets and Fixtures
They might seem trivial, but over time, they can swell your water bills and lead to water damage or mold growth.
Blockages in sinks, toilets, and floor drains can create unpleasant odors, backups, and even health hazards in commercial spaces.
Old, corroded, or cracked pipes can lead to leaks and potentially cause structural damage if neglected.
Inconsistent Water Temperature
Fluctuating or insufficient hot water can affect customer satisfaction and potentially breach health codes.
Problems like backups, blockages, or damaged sewer lines can lead to foul odors, property damage, and health risks.
A malfunctioning water heater can cause a lack of hot water, leaks, or even flooding, disrupting your business operations.
Weak water pressure can slow down your business operations, causing inconvenience to your employees and customers.
Issues such as gas leaks or damaged lines are serious safety hazards that need immediate professional attention.
Encountering these common commercial plumbing challenges? Don't wait for them to escalate. Call Doug The Plumber, your dependable commercial plumbing partner in Bastrop, TX, for professional, prompt commercial plumbing solutions.
What Makes Doug The Plumber The Top Commercial Plumber in Bastrop, TX?
Built On Years of Experience
With a legacy spanning many decades, we've cemented our reputation as a premier provider of commercial plumbing services in Bastrop County. Businesses big and small, across various sectors, have relied on our expert team to keep their plumbing running seamlessly.
From Routine Maintenance to Emergency Repairs
Whether you're dealing with a slow drain in your restaurant's kitchen, a faulty bathroom fixture in your office, or an urgent pipe burst in your retail store, our team is equipped to handle it all. We know that each commercial property comes with its unique set of plumbing challenges. That's why we tailor our services to suit your specific needs, ensuring fast and efficient solutions that minimize downtime and disruptions.
A Partner You Can Rely On
Don't let plumbing problems distract you from your core business. With Doug The Plumber at your service, you can confidently hand over your commercial plumbing concerns to us. We're not just service providers, we're partners in ensuring the smooth running of your business.
With Doug The Plumber, you can focus on what truly matters – driving your business forward. Call us today and experience the peace of mind that comes from partnering with the best in commercial plumbing in Bastrop, TX.
Commercial Plumbing Troubles Knocking on Your Door? Call on Doug The Plumber Today!
Don't let commercial plumbing woes mess up your business operations. At Doug The Plumber in Bastrop, TX, we boast a team of highly skilled professionals ready to offer swift, reliable, and specialized solutions tailored to your unique needs. Let us play our part in ensuring your business sails smoothly, uninterrupted by plumbing troubles. Dial (512) 882-0663 to schedule your appointment or consultation!
6 Different Reasons You Should Hire Us
Frequently Asked Questions
You Have Questions, We Have Answers
Plumbing problems can be extremely frustrating, especially when it means you can't use your toilet, sink, shower, or all of the above! Have plumbing questions?
Commercial plumbing entails managing larger and more intricate systems that service businesses, industrial sites, and large buildings. This often involves unique installations, rigid maintenance protocols, and addressing problems less common in residential settings.
Regular inspections and timely maintenance are essential for commercial plumbing systems. This includes checking pipes for leaks or damages, ensuring drains remain clean and clear, upkeeping commercial-grade water heaters, inspecting gas lines, and validating all plumbing fixtures are in top condition.
This largely depends on the size and usage of your system. However, a general rule of thumb is to have a professional overview at least once a year to ensure everything is in working order.
It might seem tempting to handle minor issues on your own, but commercial plumbing systems are complex and generally require expert handling. Improper fixes can lead to larger problems down the line, potentially inflating future costs. It's always prudent to leave commercial plumbing repairs to seasoned professionals, like the team at Doug The Plumber to fix the problem.
In the event of a plumbing emergency, your first step should be to contact a professional plumbing service offering round-the-clock emergency services, like Doug The Plumber. Simultaneously, mitigate potential damage by shutting off the main water supply in case of a severe leak.